Machine Embroiderers of Oregon and Washington

Silverdale Chapter

SILVER CITY KITTIES
Silverdale, WA
1st Tuesday
9:30am-3pm
Kitsap County Fairgrounds
Area Rep:
Clarice Angelo


2004   Meeting Schedule 
Next Meeting:
March 2- Roni Hutchison –
Ultra Suede Sweatshirt
April 6- Crazy Birds with
Cathy Beal & Kathy MacNeill
May 4- Heidi Lund
Fabric Collage Vest or Quilt
                      supplies/info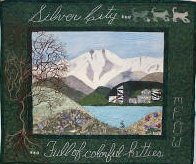 Silver City Kitties Banner
Silverdale Chapter of MEOW was started in January of 1999.
We currently have about 30
active members.
We meet on the
first Tuesday of the month
at the
Kitsap County Fairgrounds facilities.